Andy Fletcher Homebrew
Frequency Doubler
Although I can read well-sent CW at about 20wpm, I can only read it for about an hour and then my brain gives up and the CW turns back into beeps. So after that I have to rely on a morse decoder as a helper. It's not ideal but such is life. I know programs such as fldigi work quite well with CW, but I prefer to be able to drive the radio without a computer, so as to reduce EMC and also to concentrate on the task in hand – communicating. So I use an old morse decoder built in the 1980s, I believe, called the ERA Microreader. This works very well for quite a lot of sent morse, although it can't quite manage to read the speed merchants who dispense with the gaps between letters. HI HI.
The ERA takes the CW as audio and needs the signal to be decoded to be at 1275Hz. This is too high a tone for my comfort and doesn't play well with the filters on my TS590S. So I built a frequency doubler to accept 650Hz from the TS590S and send 1300Hz to the ERA. The ERA copes well with this and 650Hz can be set as the sidetone and centre of the filter.
The doubler simply consists of a active LPF/pre-amp feeding into the actual doubler. The pre-amplified signal is sent unchanged through a diode, and is also sent through an inverting amp and another diode. The two resulting positive half-waves are combined and so the frequency is doubled. Here is the circuit diagram: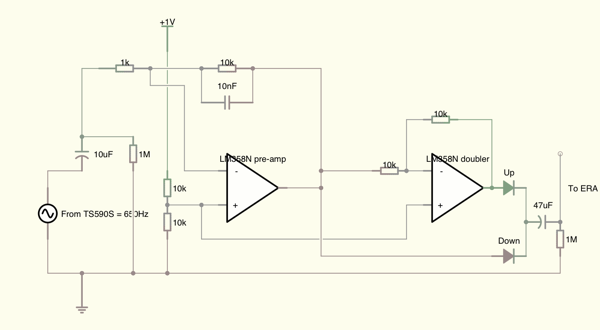 The op amps are an LM358N and the diodes are 1N4148s. The LM358N has Vcc at 13.8V.
The waveforms look like this:

Although the output signal is sitting on zero volts rather than being centred on zero volts, the ERA seems to like it well enough.
I pre-amplify the audio signal as I take it from the ACC2 output on back of the TS590S, and it's not quite strong enough for the ERA. So I can listen on my headphones to the CW at a comfortable volume without using some extreme AF gain and I can fiddle with the RF gain, filters and noise reduction to get a readable signal. The only real change from reading the CW myself is that the ERA likes the noise reduction to be the NR2=20 setting and my ears prefer NR1=6. Also the ERA doesn't like very narrow filtering which I may use if there is QRM nearby.